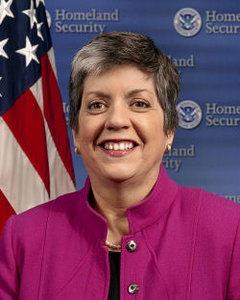 U.S. Secretary of Homeland Security calls for global action on cyber-warfare.
Janet Napolitano
was speaking at a security conference in Vienna when she called for action internationally to being legal systems up to date to address the threat of cyber attacks.
Her comments come after a flurry of high-profile attacks against big targets, including the International Monetary Fund (IMF), the Central Intelligence Agency in the United States, the U.S. Senate, Defense contractor Lockheed Martin and more.
"Most countries don't even have a legal framework that really governs cyber. It is such a new phenomenon in that regard so the legal systems -- both domestic and international -- have not kept pace with the technological advances we have seen,"
Napolitano said
.
"The threats are real. They demand our vigilance, including vigilance in protection of the values we cherish, and they demand continued cooperation,"
Napolitano said.
On investigation into the high-profile incidents of the past several months, Napolitano stressed there needs to be more cooperation in international investigations of their nature, saying that right now there is no comprehensive international framework in response to the growing threat.
"Right now there needs to be some sort of international legal framework to address those and that does not yet exist,"
Napolitano said.
---
Megan Fox Michelle Malkin Charlies Angels Rose Byrne Willa Ford